Initial setup
Network configuration is needed when you use NinjaPCR for the first time. If you have not done yet, please refer to Initial Setup document.
Manage experiment profiles
You can create an experiment profile to run it just once or save it to use repeatedly.
A profile consists of one or more cycles. A cycle has some steps and repeat counts.
Each step has duration and temperature. If you need to cool or heat samples very slowly, you can set ramp time (shortest transition time) to a step. If ramp time is empty, NinjaPCR tries to change temperature as fast as possible.
If your need a complex profile with cycles with multiple patterns, click "More Options" button to add cycles. Temperature of the lid is 110 Celsius by default but you can customize it by changing "Heater Lid" value.
For example, the profile below is written as screenshot images below.
x1

Initial Denaturation

95℃

2 minutes

x35

Denaturation

95℃

30 seconds

Annealing

55℃

30 seconds

Extension

72℃

30 seconds

x1

Final extension

72℃

10 minutes
Set tubes
Open the lid.
Insert tubes to the well.
Close the lid.
Turn the knob clockwise to press tubes lightly with the lid.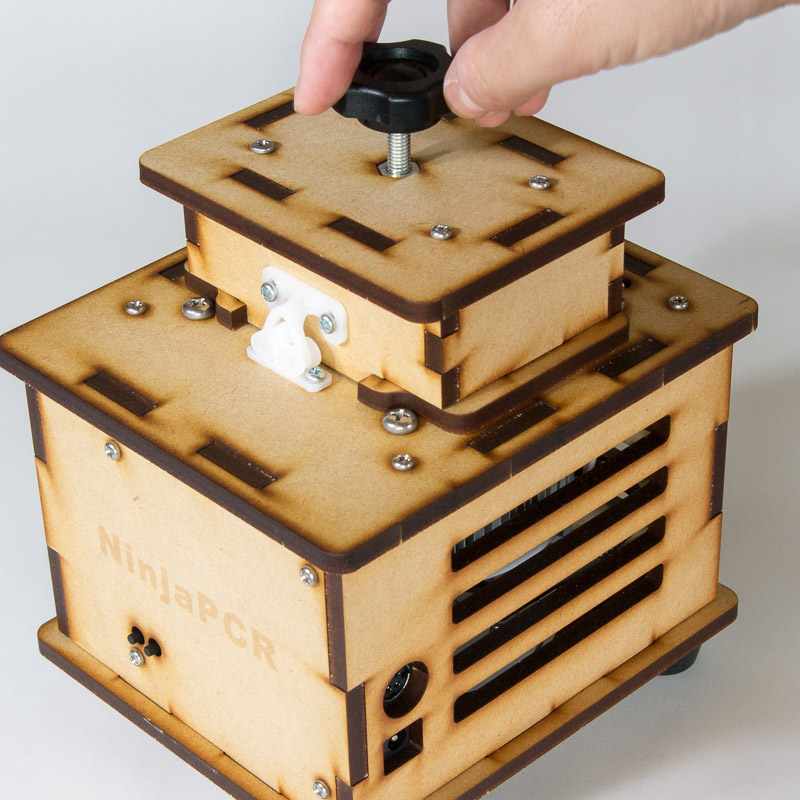 Start an Expriment
Boot NinjaPCR and connect the console to it. The process differs depending on the network mode.
Open the profile screen. You can create a new profile by clicking "+" icon or load an existing profile by choosing from the dropdown and click the "Re-run" button.
To abort the experiment, click the "Stop" button.
After an Experiment
When the profile is all done, "Finished" is displayed.
Open the lid and take out tubes. Please be careful not to touch the well or the lid. They are very hot after for several minutes!
Plug the power adapter out.